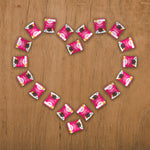 Happy day of love! At Sustainable Snacks, we believe Valentine's is a time to celebrate all love: love for oneself, love for one's partner, love for family and friends -- and, of course, love for chocolate! Whether you're spending the evening watching rom-coms with your gals, or cooking a romantic dinner for two, we've created the perfect, healthful celebratory dessert: Spicy Chocolate + Avocado Mousse. Our mousse is a wonderful combination of rich dark chocolate and warming spices -- without any of the bad stuff. We hope you love it just as much as we do!
Spicy Chocolate + Avocado Mousse
Prep Time: 10 minutes | Total Time: 2 hours (for mousse to set)
Yields: 4 dessert size servings
Ingredients 
2 ripe avocados, pitted and halved
½ c dark chocolate (70% or higher), chopped
2 Tbsp unsweetened cocoa powder
¼ c full fat coconut milk
⅛ tsp sea salt
⅛  tsp cayenne
1 tbsp pure maple syrup
½ cup Spicy Cherry + Almonds Sustainable Snacks
Directions:
Melt the chocolate over a double boiler or in the microwave in 15 minutes spurts. Once melted, stir the chocolate and allow it to cool.

Add the avocado, cocoa powder, coconut milk, sea salt, cayenne and maple syrup to a food processor or blender. Top with cooled, melted chocolate. Blend until smooth.

Divide mousse into 4 glass ramekins

Cover and refrigerate for 2 hours so mousse can set

To serve, remove from the refrigerator and top with Spicy Cherry + Almonds Sustainable Snacks.
Cheers to a fabulous day of love!