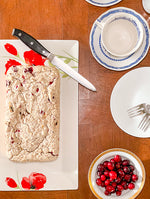 In a continued effort to add some variety to your holiday menu, we've created two new recipes that celebrate the season. The first, Curried Lentil, Apple + Butternut Squash Soup, is warming in both temperature and heat. It makes a great starter to a holiday dinner -- and leftovers can be served as lunch during the work week! 
We called our second recipe Cranberry Orange Loaf because it's not quite a cake or a bread -- it falls somewhere in between. The texture is nice and chewy and filled with both tart and sweet flavors. Serve slices as a wholesome holiday dessert or brunch addition. 
–
Curried Lentil, Apple + Butternut Squash Soup 
By Sustainable Snacks
Prep Time: 20 minutes Total Time: 1 hour 20 minutes
Ingredients
1 lb red lentils
1 medium butternut squash
1 medium potato
1 large apple (we used NY Gala)
2 qts vegetable stock
1 can full fat coconut milk
1 medium yellow onion
1 T coconut oil
3 cloves garlic
2 T curry powder
1 t cumin
1/2 t turmeric
1 inch fresh ginger, diced
1/4 tsp crushed chili flakes (optional)
sea salt and black pepper to taste
Smoky Maple Pecans to garnish
Directions
Wash all produce and rinse lentils.

Cut the butternut squash in half. Deseed and cut into 1 inch cubes (with skin).

Cut the potato and apple into 1 inch cubes (with skin; be sure to remove the apple core).

Dice the onion, garlic and ginger.

In a large stockpot, sauté the diced onion, garlic and ginger over medium heat for approximately 30 seconds.

Add the curry powder, cumin, turmeric and chili flakes (if using). Sauté spices with additional seasoning for 30 more seconds (a paste like consistency should start to form).

Now add the lentils and diced vegetables to the seasoning. 

Cover with vegetable stock and coconut milk. Bring  the soup to a boil and then reduce the heat to low. 

Simmer partially covered for 45 minutes to 1 hour (depends on stove; simmer until lentils and vegetables are so tender they are starting to break down).*

Add salt and pepper (and any "extras" of the other spices) to taste.**

Remove the pot from the stove and blend with an immersion blender (optional) to achieve a smooth consistency.

Portion the soup into bowls and garnish with a Smoky Maple Pecan!
*You may need to add some additional stock or water as the soup simmers, depending on the size of your butternut squash. 
**If you add more stock, be sure to adjust the spices accordingly in step 10.
Cranberry + Orange Loaf
By Sustainable Snacks
Prep Time: 15 minutes Total Time: 1 hour 15 minutes
Dry Ingredients
1 c gluten free flour (we used King Arthur Measure for Measure flour because it's wholegrain; you can also use wheat flour) + 1 T to coat bread pan
½ c coconut flour (or other nutrient dense flour alternative, such as almond meal, buckwheat or sorghum flour)
½ c oats 
2 t baking powder
½ tsp cinnamon
¼ tsp salt
Wet ingredients
2 flax eggs (2 T flaxseed meal + 6 T water)
2 c oat milk (or milk of choice)
¼ c pure maple syrup
Zest of 1 orange
Juice of 1 orange
⅓ c coconut oil, melted + 1 T to grease bread pan
Inclusions
1.5 cups fresh cranberries, rinsed
1 c Cranberry + Walnuts, crumbled into pieces 
Directions
Preheat oven to 350

Combine the water and flaxseed meal in a small mixing bowl. Let stand for 5 minutes to create "flax eggs".

Rinse the fresh cranberries and orange. Zest and juice the entire orange.

In a medium mixing bowl, combine the dry ingredients (flours, oats, spices, and baking powder).

Mix the additional wet ingredients into flax eggs (orange zest and juice, oat milk, maple syrup and melted coconut oil).

Mix wet ingredients into the dry and combine until incorporated (do not overmix).

Fold the fresh cranberries and cranberry + walnuts crumbles into batter.

Line a bread pan with the extra 1 T coconut oil and 1 T gluten free flour.

Pour the batter into the bread tin and bake at 350 for 1 hour.

Remove the loaf from the oven. Let it stand for 15 minutes (in bread tin) prior to removing and serving. 
We hope you enjoy and let us know, once you try the recipes out, in the comments below!
Team Sustainable Snacks