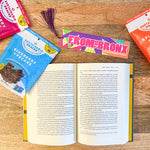 It's officially the 2020 holiday season. As with all things this year, the way we celebrate and come together must take a new shape. We are tasked with forging new traditions and finding new ways to connect. 
We've been connecting digitally for the past 10 months and have learned that "Zoom fatigue" is real. With this sentiment in mind, we've come up with a handful of  ways to stay centered and keep in contact this season.
Send handwritten cards to loved ones
There's no better way to combat Zoom fatigue than by communicating the old fashioned way! Take a few minutes to hand write personal holiday notes to friends, family members, business partners, or anyone in your life who is meaningful to you. This personal touch is sure to uplift your loved ones' spirits and facilitate connection while apart. 
Prepare the same holiday recipe favorites
Though we may not be able to sit around the same table this season, we can certainly prepare the same dishes! Share your traditional holiday recipes amongst loved ones and cook up the same holiday menu. Sharing your favorite recipes and enjoying the same meal - albeit in different places - is another great way to feel close. If you're looking for simple and healthy ideas that are ready to share, you can check out our recipe ideas here.
Participate in group meditation or yoga sessions
Yoga and meditation are both phenomenal practices for finding balance and staying healthy during stressful times. Adopting new habits - and making  time to stick to them - can be a challenge during this extra busy time of year. Making a plan to practice as a group is a surefire way to keep up with your mindfulness regimen and stay connected. 
Headspace is a great tool to support a meditation routine. They have various guided series that address specific challenges - however we especially enjoy the daily group meditations that allow the community to practice together. There is also a buddy feature that allows you to connect with friends and send words of encouragement.
This past Saturday we hosted a group yoga class on Instagram Live. Our community partner, Jazy Flow, led the session and we had a great turn out from all over the world! Since the event was a success, we plan to host another class later this month. In the meantime, Come Together Yoga has great free content on YouTube to support your practice!
Read together!
In a time when everything's gone digital, there's nothing like a good book! Escaping through a novel is always a treat, but these days it's especially meaningful to disconnect from our devices and dig in to a story. Create a book list with your friends and read together. A (virtual) book club is another way to keep our minds active and stay connected to loved ones while we continue to spend more time at home. 
Make a group commitment to support your local food bank.
If you're going to do one thing on this list, do this one: Stay connected with your community this season by supporting your local food bank. Covid has significantly augmented our country's food insecurity: 50 million Americans do not currently have enough to eat (Source: Feeding America). Make a group commitment with your friends and family to support your local food bank. We're supporting the New Settlement Community Food Action Program here in The Bronx. If you're local, Food Bank for New York City is another great option -- and Feeding America has a tool to find your local food bank nationwide. 
Wishing you all a safe and healthy holiday season. Be sure to let us how you're staying connected with your loved ones & community this season in the comments below!