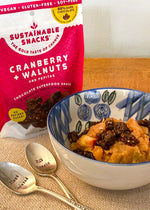 Fall into Autumn with our apple ginger compote! The weather is cooling and it's officially starting to feel like fall. We've whipped up the perfect, delicious and wholesome seasonal treat. Our warming apple ginger compote is delicious on its own -- or as an addition to your morning oatmeal. It also freezes well, so you can make a double batch and store half for later (up to 6 months). 
–
Apple Ginger Compote
Yields:
4 servings
By Sustainable Snacks
Prep Time: 10 minutes Total Time: 35 minutes
Ingredients
1 quart mixed apples (we used a combination of Granny Smith, Gala & Pink Lady)
1 T coconut oil
½ tsp ground cinnamon
1 T pure maple syrup
1 inch ginger root
Cranberry & Walnuts Snacks for topping
Directions
Wash and chop apples

with

skin. Don't worry about the size, just remove the core and slice into chunks.

Peel and finely chop fresh ginger.

Place a medium pot on the stove over medium heat. Add diced ginger and sauté for 30 seconds. 

Add diced apples, cinnamon and maple syrup. Stir, cover and reduce heat. 

Simmer mixture for 20 minutes until apples are tender.

Remove from heat. Mash apple mixture with a potato masher (or fork) to create an even consistency.

Distribute apple ginger compote into 4 bowls and top with a sprinkling of Cranberry & Walnut Sustainable Snacks.

Enjoy!
Sustainable Snack Hacks: 
Use old fruit:

Our compote is the perfect way to use up old apples. Don't worry if your fruit is extra soft -- it will work perfectly well in this recipe and even speed up the cooking time! 

Use the

whole

fruit:

Most fruit based recipes recommend peeling off the skin prior to cooking, but the skin is the most nutritious part of the fruit. Be sure to use the

whole

apple!

Make it a medley:

Add some pears, frozen berries or whatever you need to use up. The recipe will only taste more delicious with extra additions!
This recipe is a good source of:
Fiber

Vitamin C

Potassium