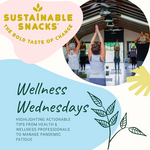 Supporting our community is a core part of our sustainability mission -- and we've been thinking long and hard about how we can extend support during this difficult season. 

We have decided to launch a series called "Wellness Wednesdays" in partnership with our Health & Wellness Industry friends. Our goal is to provide actionable tools we can all incorporate into our routines to manage pandemic fatigue.

We will post content to our social media feed each week -- in addition to hosting live conversations with wellness experts at 7 pm on Instagram Live.

This week we are kicking things off with Lorraine Melendez, Reiki Master and founder of Amber Radiance. Lorraine will share insights on the evidence based benefits of Reiki as a complimentary therapy -- along with a Reiki self care routine we can implement at home.

We hope you will join us tomorrow, August 19th, at 7 pm @SUSsnacks!