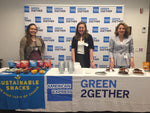 For many of us, the days following Labor Day signal a return to the classroom. Whether you're a teacher, a student, or the parent of a child, Back to School means not just freshly-sharpened pencils, but packed lunches and snacks, too. 
After a summer of s'mores and bags of carrot sticks at the beach, where should you start? Why, with snacks packed with nutrients that will sustain you, fill you up, and keep you focused. Some foods to consider then are dark chocolate, fruits, nuts, seeds, whole grains, and avocados. It's best to avoid too much sugar, which can lead to heart disease long-term and a loss of focus short-term. Seek protein and Vitamin B to concentrate, and Vitamin D and fiber for a healthier brain. 
Whole grains are an excellent source of of dietary fiber and Vitamin E. Avocados are ripe with healthy fat for good cholesterol. A whole grain sandwich with avocado, or oatmeal for breakfast is an excellent choice for your lunchbox or start to your day.
You may have noticed the other foods we listed are the ingredients in Sustainable Snacks. We'll let WebMD explain why dark chocolate, fruits, seeds, and nuts are so beneficial to a healthy lifestyle and sharp focus: 
Enjoy up to an ounce a day of nuts and dark chocolate to get all the benefits you need with a minimum of excess calories, fat, or sugar.
Blueberries, which we feature with pecans, improve both learning and muscle function. Of course, all of our Snacks feature fruit and nuts, so pick your favorite for the perfect midday or after school snack!
Grab-and-go Power Parfait
Yield: Serves 1; Make five servings in 4-ounce mason jars for a grab-and-go breakfast.
Ingredients:
¼ cup chia seeds (or combination of old fashioned oats + chia seeds)

1 tablespoon flaxseed meal

1 cup unsweetened almond milk or coconut milk/greek yogurt

¼ teaspoon cinnamon

¼ cup fresh or frozen berries/fruit of choice

1 Tablespoon

Sustainable Snacks

1 teaspoon pure maple syrup (optional)
Directions:
Add seeds, cinnamon, flaxseed meal, and oats to 4-ounce mason jars. Cover with lid and shake to combine.

Add almond milk, or yogurt of choice, and mix with a spoon to incorporate dry ingredients.

Top with fruit and cover with mason jar lid.

Set in refrigerator overnight; parfait must sit a minimum of four hours.

When ready to consumer, remove lid, stir parfait and top with 1 Tablespoon of your favorite Sustainable Snacks and pure maple syrup!
This recipe is a good source of:
Heart healthy fats

Plant-based protein

Fiber

Antioxidants