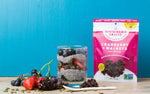 At Sustainable Snacks we love February. Why? Because it's National Heart Health Month. (Our only complaint is that it's the shortest month of the year!)
A healthier heart makes for a healthier you, and you deserve a long, healthy life. Among the seven ways to improve heart health, per the American Heart Association, are a healthier diet, an active lifestyle, and a reduction in blood sugar.
We're proud then, that Sustainable Snacks are easily integrated into better habits because all of the ingredients in our Sustainable Snacks are heart healthy. They're not just tasty, they're good for your ticker, too, and were developed from nutrient-dense, health-supporting ingredients.
Sustainable Snacks are made from dark chocolate, nuts, and spices. We don't use sugar or fillers, either.
Dark chocolate

contains flavonoids, an

antioxidant

, found in tea, red wine, 

berries, and nuts. Flavonoids reduce

inflammation

, improving blood pressure and increasing blood flow to the brain and heart.
Nuts

are a rich source of polyphenols and healthy fats, which

promote

healthy levels of HDL, often called "good" cholesterol, and reduce LDL, known as "bad" cholesterol.
We use cinnamon, which promotes circulation and healthy blood pressure, nutmeg which promotes circulation, and cayenne helps prevent blood clots. These

spices

reduce the chance of strokes and heart attacks.
If you're looking for a way to whip up something good in the kitchen with Sustainable Snacks, we have just the way to show your heart a little love.
Ingredients
1/3 cup old fashioned oats

 1 Tablespoon chia seeds

 1 Tablespoon flax seed meal

 1⁄4 teaspoon cinnamon

 1 cup unsweetened almond milk
Directions
Place dry ingredients (oats, chia, flax, cinnamon) in an 8 oz. mason jar or sealed container. Cover and shake to incorporate.
Remove lid and add milk. Stir with a spoon.
Cover and place in refrigerator overnight, for eight hours.
Top with fresh fruit and Cranberry + Walnuts Sustainable Snacks. Alternatively, you can layer fruit, nuts, Sustainable Snacks with pudding for a satisfying parfait. Enjoy!
Learn more about our health supporting
ingredients
and save 20% through 2/28 with code "HeartSmart" on
sustainablesnacks.co
.