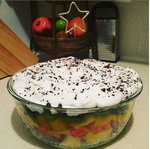 Summer is here! We know your summer is off to a happy, healthy start, and we hope it continues. 
Traditionally, summers include festivities outdoors and centered around food. Block parties, potlucks, barbecues, picnics, and festivals are a great time to see friends, family, and neighbors. Studies show that face-to-face interaction with people we care about are good for our physical and mental health, with less stress and anxiety and improved immunity and cardiovascular health. It takes more than dark chocolate for a healthy heart!
For a lot of us, though, these joyful times outdoors can be stressful. Festive spreads are heavy on mayonnaise, meats, or dishes we simply don't like. Don't fret, Sustainable Snacks has you covered, whether it's about eating well or bringing a dish everyone will like. Our founder, Rebecca, loves whipping up her easy parfait for gatherings with friends and family, and it's easy to dress up for any occasion. In this case, we've tailored our trifle to you!
We're pairing Sustainable Snacks Blueberry + Pecans with raspberries and strawberries. Blueberries contain the highest concentration of antioxidant of any fruit; they are also high in fiber and vitamin C. (July is also National Blueberry Month!) Raspberries are also generous in fiber content and are high in calcium, promoting bone growth, and potassium, which is necessary for regulating heart health and good blood pressure. Strawberries are a powerhouse, strong in vitamin c, fiber, calcium, and potassium. 
Sustainable Snacks Summer Trifle
Ingredients:
One can of whole fat coconut milk

2 Tablespoons Grade A maple syrup

Dash of vanilla

Strawberries

Raspberries
Make coconut whip, combining the full can of whole fat coconut milk with 2 Tablespoons grade A maple syrup and a dash of vanilla. Chill the mixture and your mixer's metal whisks for one hour. After the mixture has chilled, whip on high until stiff peaks are formed.
Layer the whip alternately with the berries and Sustainable Snacks. The raspberries and strawberries are great separately or in one layer together! Top with a layer of coconut whip and crumbled bits of your Snacks.
Enjoy!