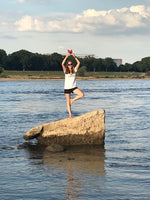 Summer is almost here, though those of us at Sustainable Snacks have already taken to the outdoors of New York City, enjoying the warm weather as much as we can!
We want your summer to be filled with fun, and that's why our products are paleo, gluten-free, vegan, soy-free. Everyone can enjoy summer--at the playground, on the trail, at the beach, during a cookout--with a delicious, heart-healthy, plant-based snack!
Summer vacation will soon be upon us, and we hope you enjoy every morsel of it! Studies show that taking a vacation reduces stress, prevents heart disease (much like the key ingredients in our Snacks), improves productivity, and results in better sleep. (You gotta rest well to play well.)  
But there's more to enjoying summer than bringing Sustainable Snacks with you. Whether you're in the garden, on a hike, or going for a run, remember to stay hydrated and wear sunscreen! (An all-natural bug spray doesn't hurt, either.) A member of our team circumnavigated Manhattan last week but foolishly applied sunscreen to her face, but nowhere else! She forgot her sunglasses at home, too, which is no good for eye health. Wearing sunscreen and sunglasses that block UVA and UVB rays will prevent sunburn and cataracts, while keeping your skin and eyes healthy, too.
Water
increases energy, improves skin complexion and elasticity, promotes weight loss, and alleviates fatigue. We think water pairs well with our Snacks, and encourage you to pack your cooler, carry-on, or day bag. Try adding some fresh herbs (such as mint or basil) and slices of fresh citrus or cucumber to your water to add a hint of all natural flavor to your H20--and try pairing with your
favorite flavor
of Sustainable Snacks.