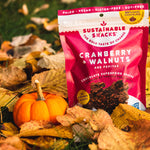 While there may be no trick-or-treating this year, we've come up with the perfect way to celebrate Halloween safely at home. We've paired our favorite family friendly Halloween movies with delicious, plant-based treats. After all, there's no need for another trick in 2020!
"Hocus Pocus (1993)" - Monster Munch (Halloween Snack Mix) 
Since 1993, Hocus Pocus has been a Halloween staple. Starring the amazing Bette Midler, Sarah Jessica Parker, and Kathy Najimy as the Sanderson sisters, three evil witches are out to steal children's souls to secure eternal youth. Spooky! Despite the dark undertones this film is filled with comedy, amazing costumes, and even a catchy musical number! So grab a drink and make yourself some of our Monster Munch popcorn mix!
Monster Munch (Halloween Snack Mix) 
Yields: 4 servings 
Total time: 5 minutes
Ingredients
8 cups prepared popcorn (we recommend popping kernels in coconut oil)
½  c pretzel sticks 
½  c Spicy Cherry + Almonds Snacks
¼ c pumpkin seeds
¼ c dried cranberries
Directions
Mix ingredients in a large bowl and enjoy!
Casper (1995) - "Candy" apples 
"Candy" Apples
Yields: 4 servings
Total time: 15 minutes
Ingredients
2 large apples (we recommend a tart variety) sliced
½ c pure maple syrup
½ c Cranberry + Walnuts Snacks
Directions
Place apples slices on a festive serving platter

Heat maple syrup in a saucepan over medium heat.

Once syrup begins to boil, reduce heat to low and stir frequently until it thickens to a caramel like consistency (approximately 10 minutes).

Quickly swirl maple "candy" topping onto apple slices and top with Sustainable Snacks.
 **Note: the maple "candy" hardens quickly and is quite sticky. Be sure to have the apples sliced and placed on the platter before you start heating up the maple syrup**
Halloweentown (1998) - Pumpkin Harvest Cookies
This Disney Channel Original classic oozes the right amount of spookiness. Halloweentown follows Marnie Piper (played by Kimberly J Brown) as she discovers she comes from a family of witches. She trains with her grandmother Aggie (played by Debbie Reynolds) in order to help save Halloweentown from evil forces. The movie is full of colorful characters, magic, and even a giant pumpkin! Making it a perfect match for our Pumpkin Harvest Cookies.
Pumpkin Harvest Cookies
Yields: 24 mini cookies (Serving size = 2 cookies)
Dry Ingredients
⅓  c oats
⅓  c sorghum flour (all purpose or gluten free blend can be substituted)
⅓  c coconut flour
½  t baking powder
¼  tsp salt
¼  tsp cinnamon
Wet Ingredients
5 flax eggs (5 T ground flaxseed meal + 1 cup water; mix and let stand for 5 minutes prior to using)
1 c mashed pumpkin (other other winter squash, such as butternut or acorn)
2 t melted coconut oil
¼  c maple syrup
¼  c cranberry & walnuts sustainable snacks
¼  t vanilla extract 
Directions
Preheat oven to 350.

Combine dry ingredients in a large mixing bowl.

Mix wet ingredients in a small mixing bowl.

Fold wet ingredients into the dry ingredients and lightly mix until combined (do not overmix; just enough to fully incorporate into a dough).

Scoop cookie batter onto lined baking sheets and lightly flatten with a spoon. Batter will yield 24 cookies (about 2 T each).

Bake at 350 for 16 minutes or until bottoms are browned

Enjoy!
Cheers to a safe and healthy Halloween! We hope you enjoy our movie and snack selection. Be sure to tag @sussnacks as you prepare and celebrate on 10.31 🎃 👻