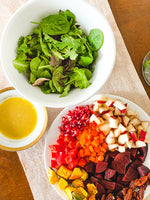 It is hard to believe that there is just over a week until the official start of the holiday season. 2020 has been quite the year - to put it mildly - and this year's holidays are sure to look different than usual. Different does not have to mean bad, however; we have a unique opportunity to create new traditions, memories and ways of connecting this season.
Our team will be celebrating digitally with family spread far and wide -- and we know this will be the case for many of us. We decided to create a special holiday menu for our community thinking that, by sharing in the same dishes, we can feel more closely connected while physically apart.   
Today we are sharing our starter, Harvest Salad with Maple Dijon Vinaigrette; and we will share our sides and desserts next week. 
–
Harvest Salad
By Sustainable Snacks
Prep Time: 25 minutes Total Time: 35 minutes
Ingredients
Salad
5 oz mixed greens (such as spinach, arugula and kale)
1 medium winter squash (kabocha, buttercup, butternut, acorn or even sweet potato), seeded and chopped into ½ inch cubes with skin
2 medium beets, chopped into half inch cubes
2 medium carrots, diced into rounds
1/2 a pomegranate, washed and seeds removed
1 small (or ½ large) red bell pepper, sliced into medium pieces
1 oz Smoky Maple Pecans 
Dressing
½ ripe lemon, juiced
1 small clove garlic, finely chopped
1 T dijon mustard
1 T apple cider vinegar
1 T pure maple syrup
¼ c olive oil
Sea salt + freshly cracked black pepper to taste
Directions
1. Preheat oven to 350. 
2. Wash, seed and dice the winter squash into ½ inch cubes. 
3. Lightly coat the squash with a drizzle of olive oil, sea salt and black pepper to taste.
4. Repeat steps 2 and 3 to prepare the beets.
5. Roast the squash and beets on separate sheet pans for approximately 25 minutes until tender. 
6. While the squash is in the oven, wash and prepare the remaining vegetables as described above.
7. Assemble the uncooked vegetables in a large salad bowl.
8. In a separate bowl (or jar with lid), combine the lemon juice, garlic, apple cider vinegar, dijon mustard, olive oil and maple syrup. Whisk thoroughly before adding sea salt and freshly ground black pepper to taste.
9. When the squash and beets have finished, let them cool at room temperature for 10 minutes.
10. Once cooled, top salad with the roasted vegetables and Smoky Maple Pecans. 
11. Add dressing, toss ingredients until thoroughly combined and enjoy!
We hope you enjoy and wishing all a safe and healthy holiday season!