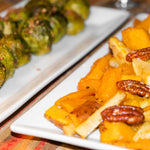 It's Thanksgiving week and, as promised, we are sharing some new recipes that we developed to celebrate the season and foster connection, despite the strange and socially distanced times. 
We hope you enjoy our dishes, which highlight the abundance of root vegetables and one of our favorite superfruits, cranberries, now in season. Let us know your thoughts in the comments below -- and be sure to tag us on social media if you try out any of our recipes!
–
Maple Ginger Glazed Root Vegetables
By Sustainable Snacks
Prep Time: 15 minutes Total Time: 1 hour
Ingredients
3-4 types of root vegetables (we used 1 medium turnip, 2 parsnips, 2 small sweet potatoes and ½ a medium pumpkin)
¼ c olive oil
sea salt and freshly ground black pepper to taste
Smoky Maple Pecans to garnish
Glaze
1/2 inch fresh ginger, peeled 
1 juicing orange, juiced
1 clove garlic, peeled and smashed
2 T maple syrup
2 T tamari
1/4 tsp cayenne (optional)
Directions
Preheat the oven to 350.

Wash and cut the root vegetables into similarly sized cubes. We recommend leaving the skin of the vegetables on (except for the turnip and pumpkin) and scrubbing with a brush or a clean sponge to remove any dirt or blemishes.

Place the cubes in a large mixing bowl. Lightly coat with olive oil, sea salt and freshly ground black pepper. 

Transfer the veggie mixture onto a sheet pan and roast for 20 minutes at 350 degrees.

While the veggies are cooking, blend the glaze ingredients (maple syrup, orange juice, ginger, tamari and cayenne pepper). 

At the 20 minutes mark, remove the sheet pan from the oven. Pour the maple orange glaze over the vegetables and combine until the sauce is equally distributed. 

Return the vegetables to the oven and roast for an additional 25 minutes (this varies slightly depending on the size and type of root vegetables. Keep an eye on them and remove once tender throughout).

Once tender, remove the roasted vegetables from the oven, plate on a festive platter and garnish with Smoky Maple Pecans!

 
–
Baked Brussel Sprouts with Pecan "Bread Crumbs"
By Sustainable Snacks 
Prep Time: 15 minutes Total Time: 1 hour
Ingredients
1.5 lbs brussel sprouts, washed and ends trimmed
½ c vegetable broth
2 T olive oil
1 clove garlic, smashed and diced
¼ t crushed red pepper flakes (optional)
½ large (or 1 small) lemon, juiced
Splash of dry white wine
½ oz Smoky Maple Pecans, pulsed into "bread crumbs" 
Directions
Preheat the oven to 350.

Wash and trim the brussel sprouts. Score the tops (make an "X" across the top with a paring knife)

Place 2T olive oil in a skillet over medium heat. Once warm, add minced garlic and red pepper flakes (optional). 

Once the garlic begins to sizzle, add the brussel sprouts and vegetable broth. Cover and reduce to low heat. Let the brussel sprouts steam for approximately 5 minutes (they should turn from bright to dark green, but not fully cook through).

Turn off the stove. Remove the lid from the skillet and add fresh lemon juice, a splash of dry white wine (optional), sea salt and freshly ground black pepper. 

Transfer the brussel sprouts to a baking dish 

Pulse the Smoky Maple Pecans into meal in a food processor or simply hand chop into fine pieces.

Top the brussel sprouts with the pecan "bread crumbs" and cover the baking dish with a lid.

Bake the brussel sprouts at 350 degrees for 45 minutes. Remove the lid at the 35 minute mark to allow the top with crisp up.

Remove the baking dish from the oven, transfer the brussel sprouts to a festive dish and enjoy!
–
Cranberry Cashew Cheesecake 
By Sustainable Snacks
Prep Time: 20 minutes Total Time: 3 hours 20 minutes
Ingredients
Cheesecake filling
2 cups raw, unsalted cashews, soaked overnight in refrigerator 
2 heaping T coconut oil
1.5 large (2 small) lemons, zested and juiced
1/4 c maple syrup
3/4 cup full fat coconut milk (you may need to adjust during food processing, depending on consistency of milk; be sure to use all of the solids, if the milk is separated in can)
Cranberry topping
**Note, we recommend using 1 lb cranberries so you can use this mixture for the cheesecake topping as well as cranberry sauce during your meal. If you'd only like enough for the cheesecake topping, we recommend making a ½ recipe**
1 lb fresh cranberries, washed
1 juicing orange, zested and juiced
¼ c pure maple syrup
⅓ c water
1 whole cinnamon stick
Crust 
1 bag Cranberry + Walnuts Sustainable Snacks, roughly hand chopped or pulsed a few times in a food processor
Directions
The night before: place the cashews in a bowl and cover with boiling water. Once the water cools, cover and transfer the cashews to the refrigerator to soak overnight.

Day of: start by preparing the cranberry topping. Wash the cranberries and place in sauce pan with the orange zest, orange juice, maple syrup and cinnamon stick. Bring to a boil over medium heat. Let mixture simmer for approximately 20 minutes until a thick sauce forms.

Remove the cranberries from the stove and transfer to a glass bowl. Place in the refrigerator to cool while you prepare the rest of the cheesecake components.

Roughly hand chop or (pulse in a food processor) the Cranberry + Walnuts Snacks. Line 12 individually portioned silicone baking mats (or parchment paper lined tins) or 1 9" springform pan with the Cranberry + Walnut crumbs.

In a food processor, blend the cashews, lemon zest, lemon juice, maple syrup and coconut milk until smooth. Coconut milk can vary in consistency, so we recommend starting with ¾ cup (including all of the solids) and adding more if needed. The final mixture should look like actual ricotta cheese.

Distribute the "cheese" filling to the molds (about 2 heaping tablespoons per individual cake or the entire filling onto springform pan). Smooth with a spoon and lightly press down to ensure the filling sticks to the Cranberry + Walnuts crust.

Remove the chilled cranberry filling from the refrigerator and place 1 rounded teaspoon on top of each individual cake - or 1 heaping cup on top of the springform cake (and serve the remaining cranberry sauce as part of your meal).

Smooth the cranberry mixture and lightly press into the cashew cheese layer.

Place  the cheesecake(s) into the freezer and let set for 3 hours (or overnight).

Allow the cheesecake to thaw at room temperature for about an hour prior to serving. Serve and enjoy!

 
Wishing you all a Happy (and safe!) Thanksgiving!
Team Sustainable Snacks