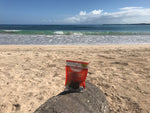 We're reaching the homestretch of outdoor activities, but our desire for you to enjoy a healthy, happy summer remains ever present. And just because summer is nearing an end doesn't mean your pursuit for a well-hydrated, fruitful lifestyle will come to a close. We're always finding great ways to use Sustainable Snacks and inventful ways to wow the community.
We know just how to stay on track as you close out the summer. Whether it's a barbecue or the beach, this super easy, super fast treat is sure to satisfy everyone. We've started with watermelon, which is seasonal and revered for its sweet, juicy flavor, and its health benefits: at 92 percent water, the fruit (and vegetable!) is a great way to hydrate and replace lost electrolytes. Watermelon is an excellent source of potassium (which is necessary to regulate blood pressure and heart health), vitamin C (essential for a great immune system and good skin), vitamin A, and vitamin B5.
So, how does one improve upon a superfruit? Easy! By adding more fruits and Sustainable Snacks Spicy Cherry + Almonds. We like to pair watermelon with other melon, like honeydew and cantaloupe. Honeydew is praised for its vitamin C while cantaloupe is revered for its vitamin C, potassium, and carotenoids, which reduce the risk of some cancers and heart disease. We think bright, juicy strawberries pair well, too. (Any Sustainable Snacks will pair well with this cake, but we like our treats spicy and sweet.)
Sustainable Snacks Watermelon "Cake"
Ingredients:
One whole watermelon

Assorted fresh fruits (we suggest strawberries, honeydew, and cantaloupe), peeled and sliced.
Remove the rind from your watermelon, peeling the watermelon in the way you would peel a potato or squash, aiming to keep the fruit in one whole piece. When the rind is removed, slice the watermelon horizontally. Place sliced fruit and Sustainable Snacks Spicy Cherry + Almonds between layers of sliced watermelon. 
To serve, slice watermelon "cake" vertically like a traditional cake!