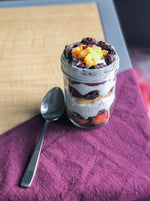 It is hard to believe that summer is drawing to a close -- yet the arrival of fall and the way the new season will unfold remains uncertain. Take a few minutes this weekend to decompress and treat yourself to our seasonal mini trifles. Recipe below. 
Stone Fruit & Coconut Whip Mini Trifles
By Sustainable Snacks
Prep Time: 10 minutes 
Ingredients
4 large, ripe stone fruit (we recommend a combination of nectarines, peaches, apricots)
1 13.5 oz can full fat coconut milk
2 T purple maple syrup
½ t pure vanilla extract
Cranberry + Walnuts Sustainable Snacks 
4 mason jars to serve
Instructions
Place coconut milk, metal bowl and whisk in the fridge to chill (chilled coconut milk will whip better; we recommend sticking these items in the fridge the night before making this recipe).

Wash and slice stone fruit.

Pour chilled coconut milk, maple syrup and vanilla into the chilled metal bowl. 

Whip coconut milk until thick peaks form.

Layer stone fruit, Sustainable Snacks and coconut whip. Repeat 3 times, finishing with a top layer of  fruit + chocolate snacks. 

Make 3 additional jars to share with friends — or cover and enjoy for the rest of the week!
Sustainable Snack hack: make 2 recipes from one! After preparing 2 mini trifles, fold remaining fruit and chocolate snacks into the leftover coconut whip. Lightly incorporate and divide mixture into popsicle molds. Freeze overnight and enjoy trifle pops as another wholesome dessert option the following day!